Integrate Mindful Feedback with Flex
Mindful Feedback enables automatic collection of customer feedback after any Flex interaction. Mindful Feedback can capture feedback over post call voice IVR, outbound voice IVR, conversational SMS, Web SMS, email, and web surveys.
Customer feedback can be viewed from the integrated real-time reporting dashboard available for agents, supervisors and managers directly within the Flex UI.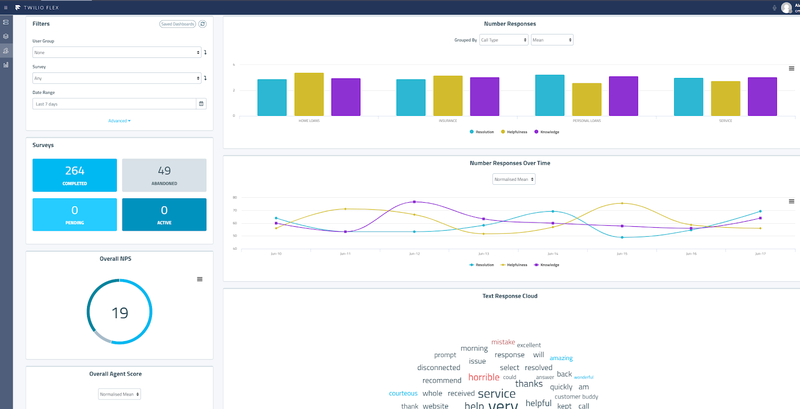 Mindful Feedback automatically initiates customer feedback surveys via Email, Conversational SMS, Web SMS, Web, or Voice IVR after any type of interaction handled within Flex.
As part of the integration, Mindful Feedback allows the following features within Flex:
Multi-channel surveys

Survey customers in the most appropriate channel to maximize efficacy. Mindful Feedback supports Email, Web SMS, Conversational SMS, Web, and Voice IVR surveys.

Business Context

Automatically associate data about the Flex interaction with the survey to enable personalisation, contextualisation, deeper customer insights, and greater customer engagement.

Take immediate action

Automatically take action on customer feedback to create outstanding customer experiences. Notify a manager, create a service request in your CRM, or schedule a customer call back. Your action will be immediately and automatically initiated by Mindful Feedback based on customer feedback.
The Mindful Feedback Implementation Guide will be made available to you when you become a customer. The Mindful Feedback team will work with you to deploy the solution in your environment, provide you with detailed training on the product, help design and build your surveys, and deploy your required use cases.