Twilio SendGrid
Marketing Campaigns
Use smarter email marketing to drive business
impact beyond the inbox.
Sign up and start sending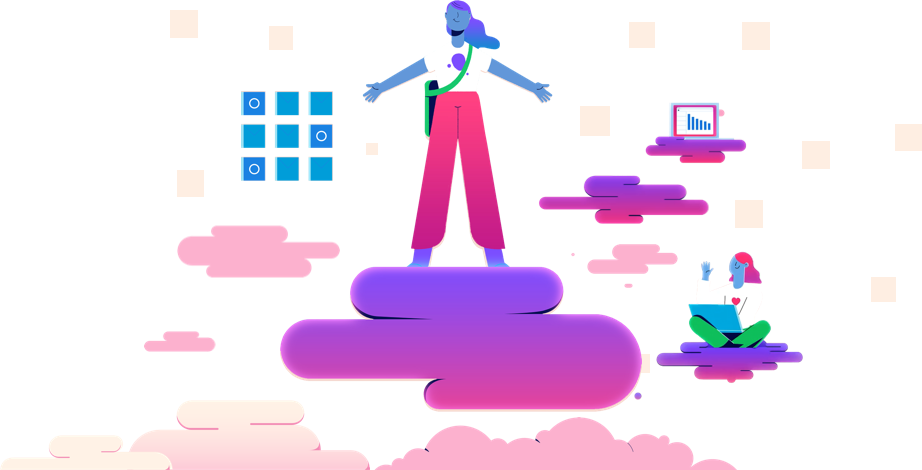 Elevate your email marketing
Email is a critical communication channel for your business.
Marketing Campaigns raises the bar at every step, from design to delivery.
Cross automation off your to-do list
Craft automated emails in hours, not days. Marketing Campaigns centralizes the tools you need to target, build, send, and measure automated recurring emails or time-based drip email series.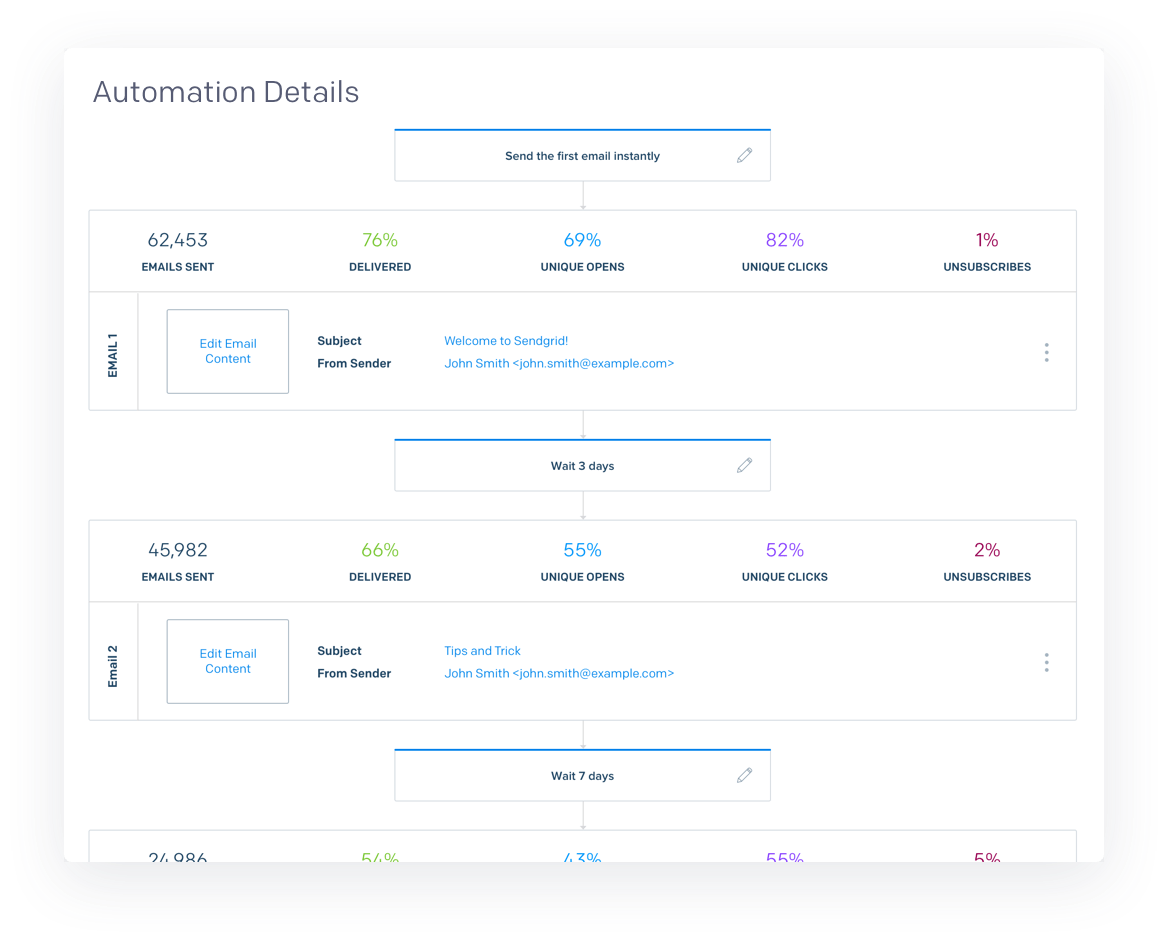 Choose how you build your emails
Whether you're starting from scratch or using our responsive templates, craft emails using drag and drop design, HTML editing, or a mix of both. Marketing Campaigns lets you build flexibly without boxing you into restrictive step-by-step flows.
Make sure you reach the inbox
Delivery is everything. Twilio SendGrid helps you maximize delivery rates by offering dedicated IP addresses and support for custom domains, proactively monitoring feedback from leading inbox providers, and fostering relationships with leaders in the industry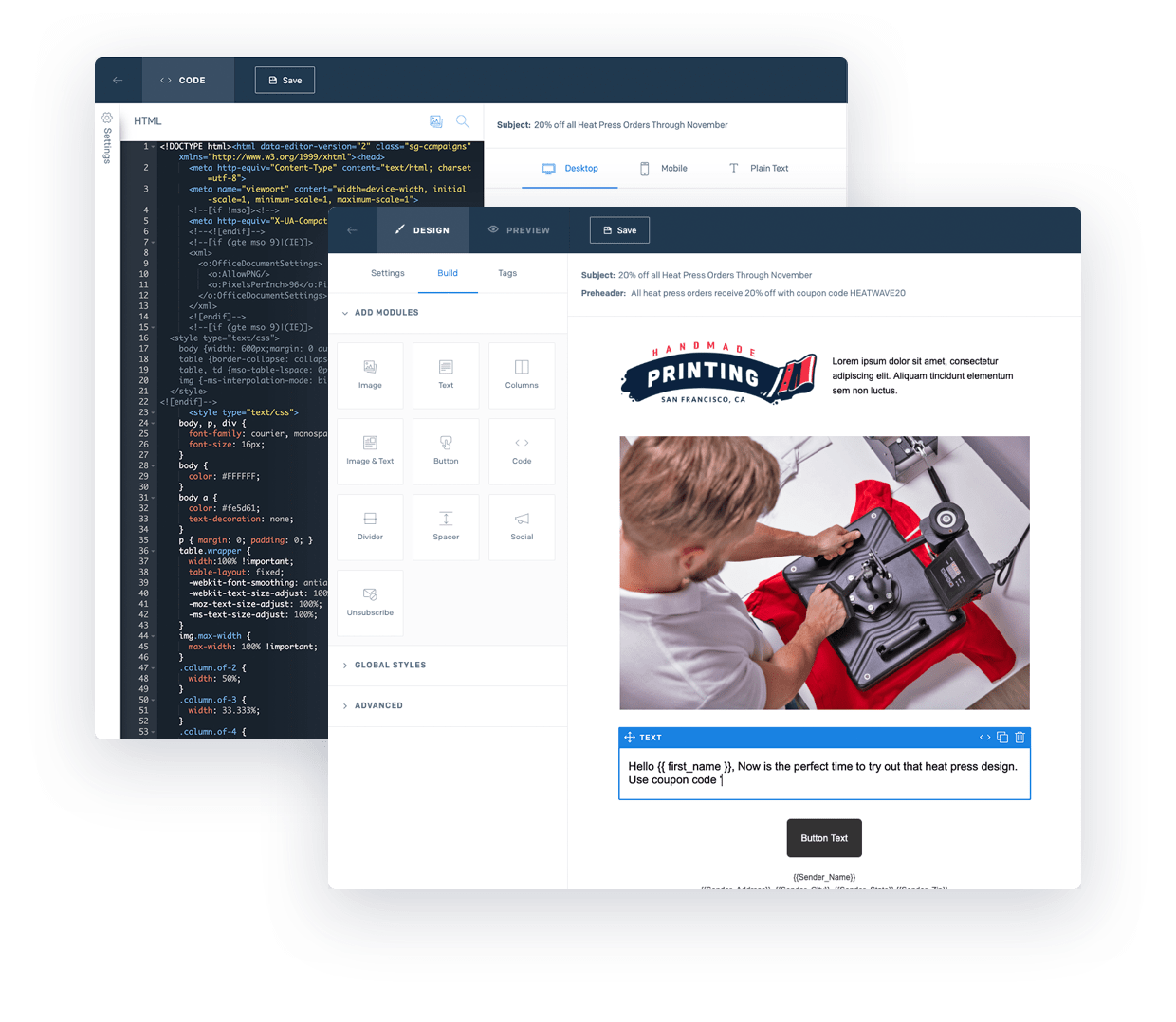 Learn from every email
Marketing Campaigns takes the guesswork out of email marketing. Before you send, test how your emails will display and perform across inboxes, on any device. Then, use A/B testing to prove what resonates best with your contacts with concrete data like open and click through rates surfaced in real-time.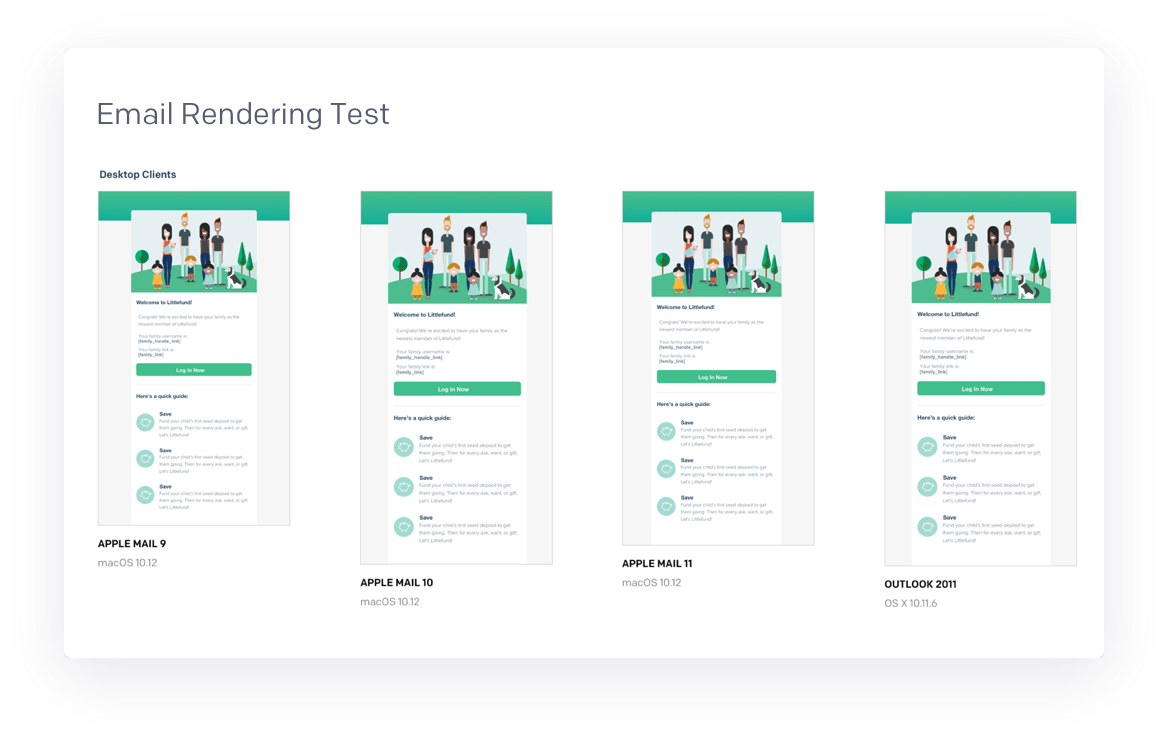 Unite your team on one platform
Marketing Campaigns breaks down the silos that separate teams and slow down your business. Using Marketing Campaigns, developers, marketers, and everyone in between can work with the tools they love on one united platform.
Optimize every aspect of your emails
Twilio SendGrid gives you the ability to control the look and feel of your transactional emails, as well as your marketing emails. View and modify designs in the UI-based editor and your changes will automatically populate in API-triggered emails.
Drive success with better analytics
Gain visibility into all the emails your customers receive, marketing and transactional, using real-time analytics. Track critical metrics like delivery, open, and click through rates, and learn more about your audience with geographical data, device type reports, and more.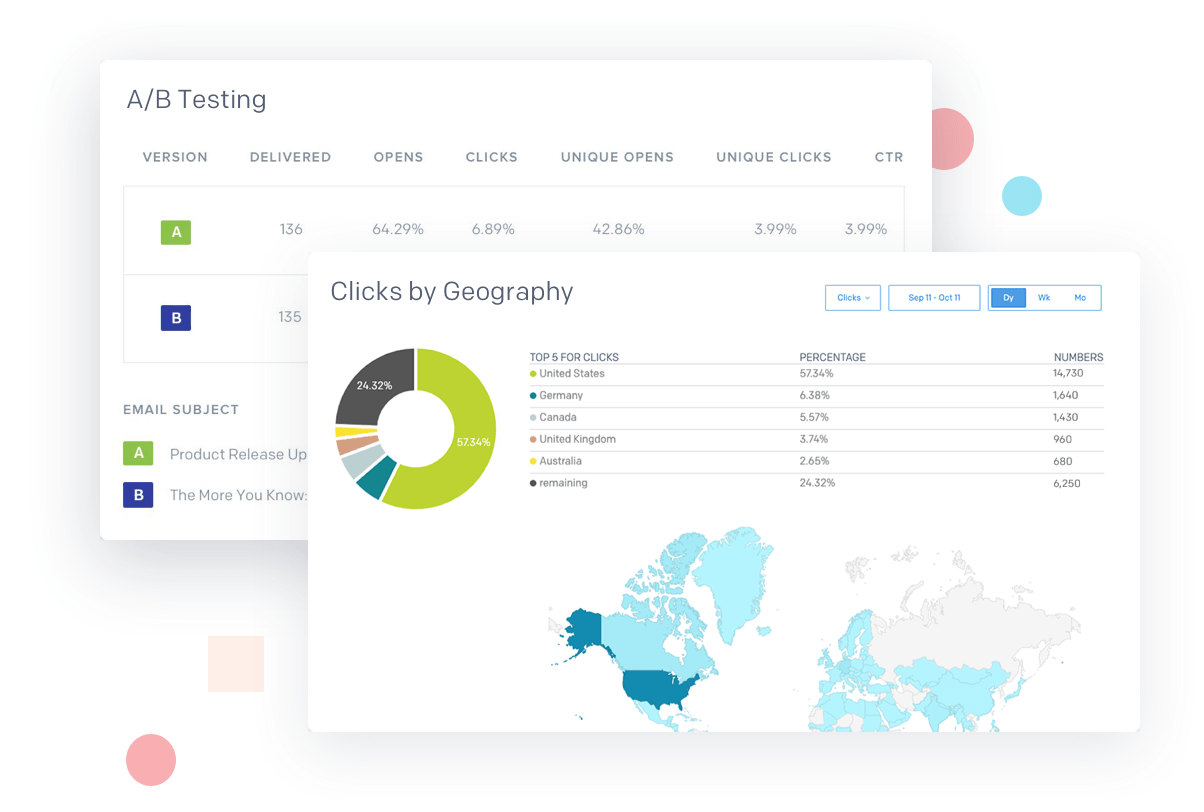 Rely on a single source of truth across teams
Twilio SendGrid's email platform delivers an intuitive UI and best-in-class APIs to serve everyone in your organization. Teams stay on the same page when reviewing everything from content, to customer data, to email program performance.
Partner with email experts
SendGrid lives and breathes email so you always have a trusted team of experts in your corner.
Tap into the world's largest team of deliverability experts to help you win your way to the inbox.
Call on a 24/7/365 Support Team dedicated to your success.
Leverage Expert Services to get started quickly, reach the inbox, and set up your email program for long-term success.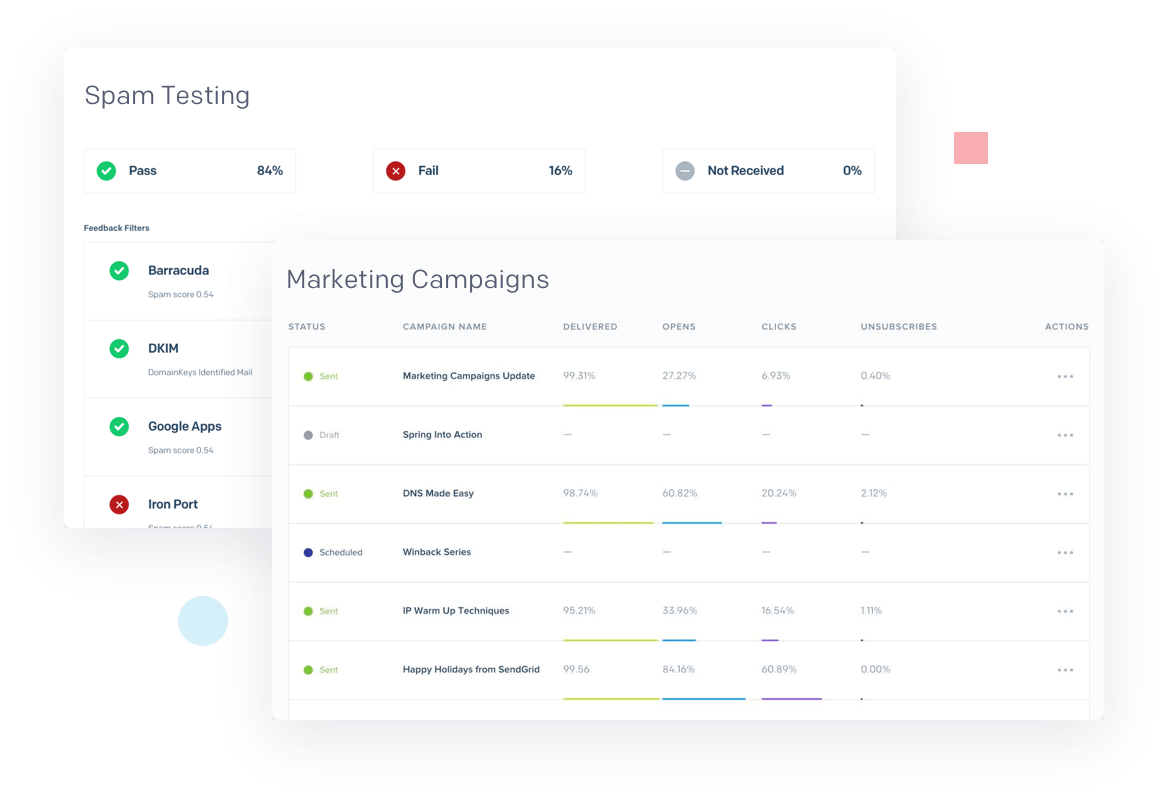 Use Cases
Twilio SendGrid provides a trusted foundation for remarkable businesses across the globe to drive innovation.
Reliability at scale
"With Marketing Campaigns, we're free to send targeted one-to-many emails at any scale—from promotional content like new feature announcements to more critical communications like GDPR and Privacy Policy updates."
Tyler Green, Growth Marketing Manager
See what they built
Deliverability
"SendGrid ensures top notch deliverability across marketing and transactional emails. With Marketing Campaigns, we quickly build targeted segments and use the drag-and-drop templates to create uniquely styled emails."
Cheyanne Hefley, Email Marketing Manager
See what they built